9,000 Maine Residents Lose Food Stamps Under New Rules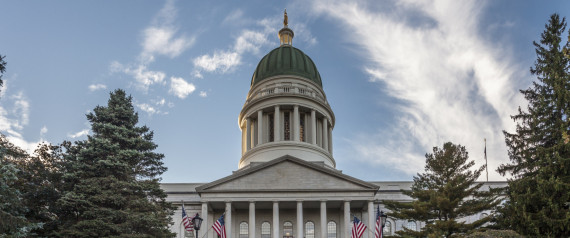 AUGUSTA, Maine (AP) — More than 9,000 Maine residents have been removed from the state's food stamp program since Republican Gov. Paul LePage's administration began enforcing work and volunteer requirements late last year, officials said.

The number of people that have been dropped from the program has exceeded even the administration's expectations.

About 12,000 adults who aren't disabled and don't have children were in the program before Jan. 1. That number has dropped to 2,680 this month, David Sorensen, spokesman for the Department of Health and Services, told The Associated Press. SOURCE
The definition of welfare; a government program for poor or unemployed people that helps pay for their food, housing, medical costs, etc. Also, the state of being happy, healthy, or successful.
The definition of charity; the voluntary giving of help, typically in the form of money, to those in need. Also; help or money given voluntarily to those in need, as in "an unemployed teacher living on charity"
Nowhere in those definitions do I see the word CAREER, and there are millions in this nation that have made a career of being welfare leeches, welfare queens, criminals that rape the system, and thus the taxpayers of this nation as they lounge around the house, watching TV, drinking, smoking dope, dealing dope, engaging in acts of prostitution and any number of nefarious activities.
I am talking about able-bodied men and women that are robbing YOU and ME of our hard earned dollars so that they don't have to go to work.
I fully understand that a person or a family can fall on hard times and as such are in need of a HAND UP, not a hand out. Food stamps can mean the difference between feeding you and your kids or going hungry.
I understand that a needy mother or father want to improve their lot, perhaps through education, in life in order to provide a good life for themselves and their children.
I understand that a worker can become disabled due to injury or health issues, and in some cases those individuals may need long term benefits, and in many instances they have worked their entire lives, paying into the Social Security fund and are entitled to the financial and health benefits they receive. 
Then we have the aforementioned slugs of humanity that scam the system and take money from those that actually NEED it as opposed to those that just steal from all of us. 
Advocates for the poor say there aren't enough jobs and volunteer positions available to recipients, especially in rural areas, forcing them to lose their benefits and turn instead to their local food banks.
According to the Obama administration unemployment is at some kind of all-time low due to the incredible leadership of Obama but this article says there aren't enough jobs to go around.
I wonder what all of those poor people that Maine cut off who aren't disabled and don't have children are going to do now?
Putting them to work sounds good to me; hard labor, building roads and infrastructure to help repay this nation and those truly in need for all the money they stole from us.
Twenty years on a prison road gang, doing repairs and cleaning the countryside would be very appropriate in my opinion. Sadly, that won't happen, if they go to prison they work out, watch TV and sit in air conditioned lounges.
If unemployment fraud, welfare, food stamps and social security fraud could be stopped in all 50 states I have to wonder; how much would that effect the budget? And just think, the government itself is guilty of massive over-spending.
Touchy-feely Liberalism sure is awesome huh?