Police Scrutinized After Baltimore Arrests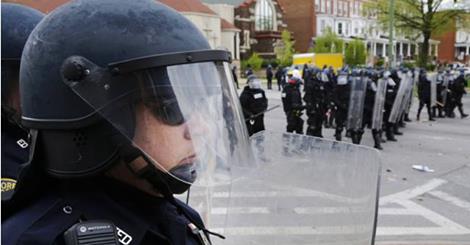 ATLANTA (AP) — National outrage over the death of a black man while in police custody and the speed with which a prosecutor decided to charge the officers who arrested him could have a chilling effect on law enforcement — at least in the short term while passions are running so high. SOURCE
OK, I admit it, sometimes I just don't understand all of the reasons WHY things happen the way they do, this is one of those times. 
The initial coroner's report came out and THIS was the story; Freddie Gray not injured during arrest, head struck bolt in back of van and in a very short time State's Attorney Marilyn J. Mosby charged the driver of the van with second-degree murder and the other officers with offenses that included involuntary manslaughter, vehicular manslaughter, second-degree assault, false imprisonment and misconduct in office. The officers were taken into custody Friday and released on bail. Six Baltimore police officers charged in Freddie Gray's death.
I am not one to throw around a lot of *racist* accusations, that's not my immediate reaction, but I have to wonder; is this a case of blatant RACISM on the part of State's Attorney Marilyn J. Mosby, her supporters at City Hall, ie; an incredibly ignorant Mayor named Stephanie Rawlings-Blake, and God only knows how many other Black officials in Baltimore?
It can't be racism, can it? Three of the arresting Officers happen to be Black themselves, and one just happens to be a Black female. Who are the officers charged in the Freddie Gray case? – Baltimore Sun. Wouldn't that negate any chance of a claim of ANY kind of racism? 
Surely the Black Officers didn't abuse *Da Brother* did they?
Now, I pose this; as stated in the original story, what happens when Officers begin to hesitate in the course of doing their duty? What happens when the Police all over this nation are hesitant to act against *less than deadly* thugs simply because they, the Officers, fear the intense scrutiny and 2nd guessing that they can and will face in the actions they took.
I have long contended that IAD, Internal Affairs, and various shooting boards, both Departmental and Civilian, have days, weeks and months to evaluate the actions of an Officer when said Officer had less that a second to act on the threat being faced in the field when risk death or serious injury is the possibility of inaction because they did hesitate as they consider the FUTURE ramification of their action.
We don't live in a perfect world, hindsight is, as they say, 20/20 and gives the observer a lot of advantages when analyzing a decision made in a split second.
What happens when our Officers get to a point where they aren't willing to do the job, serve a public that, for the most part, hates their guts? What happens when those professionals say 'to hell with it' and walk off the job, either in anger or frustration and leaves the public at the mercy of street thugs, ghetto rats and every other criminal element in this nation?
Who is going to stop *the bad guys* then?
The Thin Blue Line is being stretched to the limits, Police Officers in Baltimore are being offered up as a *human sacrifice* by a City and State that have Black, Liberal FAILURES running them, when do the Officers of Baltimore do the unthinkable and walk out with a terminal case of The Blue Flu?