2 gunmen shot dead outside Muhammad Art Exhibit in Garland
GARLAND — A search for explosives continued into the night Sunday after two men were shot and killed outside a provocative contest for cartoon depictions of the Prophet Muhammad. SOURCE
I have been telling folks for a long time; we do things a lot differently here in Texas…
Garland and Rowlett, where I live, share a long common border and have a strong mutual aid agreement. We help each other any time help is needed. Our weather may not be to your liking, yes indeed, it gets HOT here in the summer, but damn, you can't beat our cops and the guns laws.
And most, if not ALL of my positive POLICE posts and comments are based on 1st hand knowledge about Texas and Louisiana Police Officers, folks I know, from Sheriffs and Chiefs all the way down to the Officer on the street. This is hard core redneck country, PISS on ISLAM and every goat loving son of a bitch that's a member of that evil cult.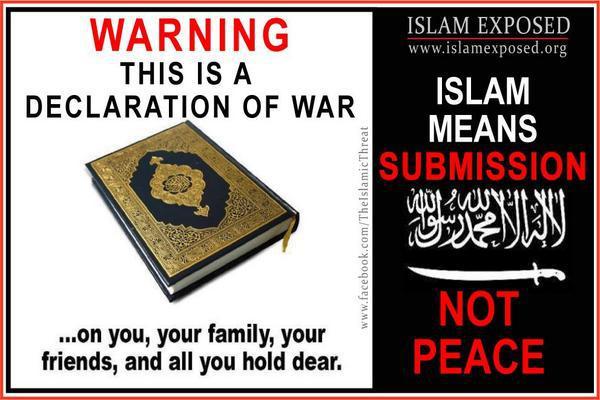 Pamela Geller, president of the American Freedom Defense Initiative, put on the Muhammad Art Exhibit. She referred to it as a "free speech event" on Twitter. One tweet from her after the apparent attack read "this is a war."
A free speech event or an antagonistic attempt to bring open warfare to the streets of North Texas before she jumps back on a plane and heads off back to New York?
I personally have NO USE for Pamela Geller, and that goes back for quite a while: Pamela Geller Is Not the Epitome of Conservatism | The TexasFred Blog. Nothing has happened to cause me to change that opinion, of her or her big buddies Annie Hamilton and Debbie Schlussel, they all 3 launched a huge histrionic screed against Texas Governor Rick Perry a while back in which they ALL accused him of being a Muslim, or perhaps a stealth Muslim.
Since that day I have had NO USE for any of those three Drama Queens that play a race card, an anti-Semitism card, any time someone speaks against them. They are no better than the trouble makers on the Left in that regard.
Sure, we all pretty much know; WAR is coming, maybe it's a good thing to get it going and get it over with, but folks here in Texas don't need some Drama Queen from New York coming here, starting trouble in OUR back yard just to garner hits for her blog when SHE is NOT going to be the one on the street with HER ass on the line when the lead starts whizzing around.