Anheuser-Busch Halts Beer Production to Provide Water for Texas, Oklahoma Storm Victims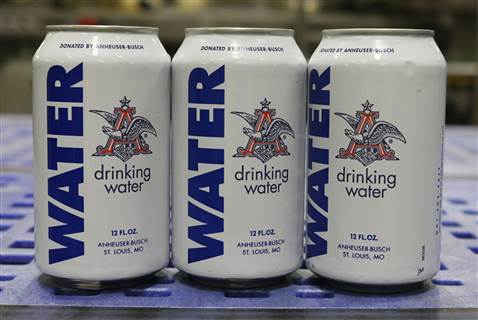 Beer giant Anheuser-Busch stopped production at its Georgia brewery this week to instead produce drinking water for those affected by a deadly bout of historic flooding and storms in Texas and Oklahoma.

Anheuser-Busch said it had stopped beer production at its Cartersville brewery in Georgia late Wednesday night to produce 50,000 cans of water for the American Red Cross. SOURCE
Instead of calling it Budweiser they should label this as *Budwater*!
I have never been a fan of Anheuser-Busch products, and I know, it's just me, but I don't like ANY of their beers.
That said, I have massive respect for their company and for what they do in a time of need for people that don't have a decent supply of drinking water.
Good job Anheuser-Busch, keep up the good work!