The TexasFred Blog is NOT a HATE Blog or RACIST Blog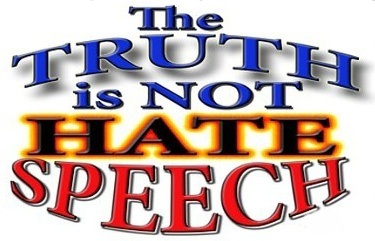 I have really been hammering on Obama, Syrian *refugees* and the GUNS issue for the last few days, and some folks may think it's redundant, repetitive and a continuance of the *hate blogging* that I have once again been accused of.
The TRUTH is NOT HATE SPEECH.
Islam is NOT a race and neither is being an illegal alien, but some supposedly educated people seem to think that if they cry long enough and loud enough about a blog being a *racist hate blog* it will make their *fellows* stay away from such a HATE filled blog.
Au contraire, mon ami.
Liberals follow the likes of Barack Hussein Obama, Hillary Clinton and Ol' Bernie Sanders because it requires NO cognizant thought. Just drink the kool aid and move along.
It's simple, it's easy, it doesn't tax the brain and Liberals know that they are being looked after and their welfare is all the Democrats, Commies and Socialists care about, but then, every so often, one of them reads a *hate blog* such as this and possibly, for the first time in their lives, they see and comprehend the truth.
The TRUTH is all I have and the Left has NO response to TRUTH, all they can do is moan and cry about HATE and ANGER from the far right and that evil TexasFred.
The truth of the matter is this; I am ANGRY and I HATE what the Dems and their cohorts are trying to do to America.
I HATE the very thought of OUR men and women that served in the military and served this nation being ignored and left to die while *refugees* are in a position to benefit from BILLIONS of dollars is U.S. aid.
I HATE the war that has been declared on American Law Enforcement.
I HATE Islamic terrorists and their supporters.
I HATE Islam and ALL Muslims; their declared intention is to dominate the Infidel, that would be you and me, and to make the United States an Islamic nation, doesn't that generate some degree of HATE and ANGER within YOU?
I HATE political correctness and those that don't have the intestinal fortitude to stand up and speak the TRUTH and I am convinced that PCness WILL be the death of the nation.
I HATE the way Barack Obama attempts to circumvent the United States Constitution, most particularly the Second Amendment, in an attempt to remove guns from the hands of Americans.
And in the interest of TRUTH and HONESTY, I HATE Barack Hussein Obama, what he is and what he stands for
I HATE what I KNOW will follow if the Democrats are successful in that all they seek to bring to America.
I HATE the idea of the GENOCIDE that is sure to follow if Americans are disarmed and defenseless.
I HATE the failure of the GOP and the RINOs that run the GOP for not taking a hard stand against Obama and Company for all of their efforts to harm the America we grew up in, the America that our fighting forces fought and died to protect.
I am more angry with the GOP than I am with the Democrats, you see, we have grown to expect gross ignorance from the Dems, but once upon a time we expected a lot better from the GOP, as recently as the last election when they promised us that they would destroy Obamacare and render Obama powerless because they had control of the Senate, House and SCOTUS.
The GOP has the House and Senate, Obama is as powerful as he can be and I HATE that.
Maybe this really IS a *hate blog*, one written by an angry old man, I can understand how some dumber than dirt Liberals could believe that but here's what I simply do NOT understand; if you LOVE America like I do then how is it that YOU don't HATE what's happening to her?
Why aren't YOU as angry as I am?