Meeting between Bill Clinton and Loretta Lynch Provokes Political Furor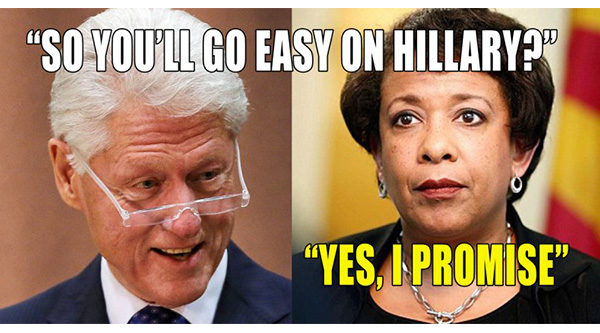 WASHINGTON — An airport encounter this week between Attorney General Loretta E. Lynch and former President Bill Clinton has welled into a political storm, with Republicans asserting that it compromised the Justice Department's politically sensitive investigation into Hillary Clinton's email practices while she was secretary of state.

Ms. Lynch said the meeting with Mr. Clinton was unplanned, largely social and did not touch on the email investigation. She suggested that he walked uninvited from his plane to her government plane, which were both parked on a tarmac at Phoenix Sky Harbor International Airport.

"He did come over and say hello, and speak to my husband and myself, and talk about his grandchildren and his travels and things like that," Ms. Lynch said at a news conference in Los Angeles on Wednesday, where she was promoting community policing. "That was the extent of that. And no discussions were held into any cases or things like that." SOURCE
And if YOU actually BELIEVE the above BS, I have some oceanfront property that I'll sell you, it's out by Phoenix and reasonably priced, it has a lovely view with soft, white, sandy beaches and gentle breezes, not to mention fabulous sunsets.  
Listen to me folks, listen and please spread the word to ALL of your family and friends; Bill Clinton and Loretta Lynch just engaged in an act of COLLUSION, I don't care how you look at it, Bill Clinton can't just wander off to visit the Attorney General for ANY reason as long as his wife is under investigation.  
From Dictionary.com — Collusion: noun
1. A secret agreement, especially for fraudulent or treacherous purposes; conspiracy: Some of his employees were acting in collusion to rob him.
2. Law. A secret understanding between two or more persons to gain something illegally, to defraud another of his or her rights, or to appear as adversaries though in agreement.
From a British Dictionary — Collusion: noun
1. A secret agreement for a fraudulent purpose; connivance; conspiracy
2. A secret agreement between opponents at law in order to obtain a judicial decision for some wrongful or improper purpose
The Congress may not be able to tie Clinton to anything, and given the way Congress works, and the sheer stupidity of the whole damned bunch, I am not in the least surprised. The United States Congress couldn't find their own asses with a GPS unit and a road map.
I did however, hold out at least some hope that the FBI would gather and then present evidence that would incriminate Hillary Clinton so badly that she would be forced to exit the race for POTUS. Somehow, I can't help thinking, the FIX is in.
The FBI is under the control of the Justice Department, the DoJ, and they are led, sort of, by Loretta Lynch.
I am telling you America, we can't allow Hillary Clinton to be given the White House, no matter the cost. SHE MUST BE STOPPED!
What we are seeing right now is violations of the law, skirting the letter of the law, ignoring the law of the land and in MY opinion, gross misconduct from ALL concerned, and if you think it's bad now, what do you suppose it's going to be like if Hillary Clinton becomes POTUS and has a fellow cretin such as Loretta Lynch doing her bidding?
And one other thing of MASSIVE importance, the Supreme Court; they are, for the most part, OLD and in need of a rest home to retire to. What will the complexion of the SCOTUS be if Hillary Clinton were to become POTUS?
I'm not asking you to do this to generate more hits for the blog, I am asking you to share this link in your emails and social media because it's that important to the continued freedom of America, what freedom we have left, and to any chance we may have to make America great again.
Share this like your life depends on it, because IT DOES!