Plausible Deniability – The Obama Administration Defined
The words Plausible Deniability were invented, inadvertently I am sure, to describe the administration of Barack Hussein Obama, the President of the United States of America.
Barack Hussein Obama; in charge of everything, and apparently, responsible for nothing if his advisers, spokespeople and the American media are to be believed.
From Urban Dictionary; the definition of Plausible Deniability
1. A condition in which a subject can safely and believably deny knowledge of any particular truth that may exist because the subject is deliberately made unaware of said truth so as to benefit or shield the subject from any responsibility associated through the knowledge of such truth.

2. Plausible deniability actually is a legal concept. It refers to lack of evidence proving an allegation. Standards of proof vary in civil and criminal cases. In civil cases, the standard of proof is "more likely so than not" whereas in a criminal matter, the standard is "beyond a reasonable doubt" If your opponent lacks incontrovertible proof (evidence) of their allegation, you can "plausibly deny" the allegation even though it may be true.

3. When it is acceptable for a party to lie about what they did because the truth would hurt too much and cause many problems.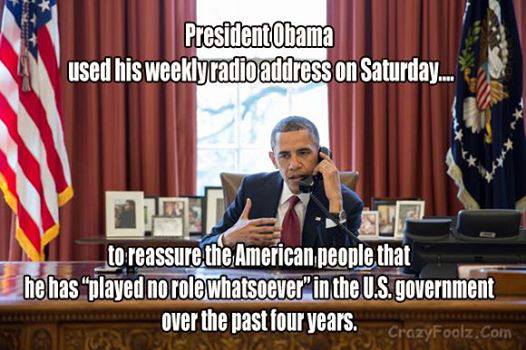 It appears to me that many in the Obama administration are more than prepared to 'take a bullet' for Barack Hussein Obama. Some are ready to sacrifice their lives, families and careers to protect Obama and to make him appear to be in NO WAY responsible for the heinous and reprehensible acts of his incompetent regime.
The Obama scandals – The IRS, Health and Human Services, Department of Justice, The EPA, Fast and Furious, Benghazi and the hacking of reporters and news services emails and private records, should be more than enough to bring the Obama regime down in a huge, smoking heap.
These scandals would be the death knell to the administration of a Republican President and would no doubt cause said GOP President to resign in shame or face impeachment and then be sent off into the land of political HELL.
A real leader knows what goes on *in the ranks* and a real leader doesn't take *credit*, he takes responsibility.
*The buck stops here* is a well-known phrase from Harry S. Truman, meaning that he is the end of the line, he accepted the responsibility, or the blame as the case may be, and he didn't *pass the buck* to subordinates.
So far, everyone within the Obama regime wants the American people to believe that Barack Hussein Obama is clueless about what goes on in his government.
I understand that NO President can have total recall of each and every word that was said during his term in office, but for Obama, or his staff to say that Obama is without ANY knowledge or blame for the current scandals is nothing more or less than a LIE.
Rumors are always floating about who knew what and when they knew it.
I am more than certain that Hillary Clinton knew exactly what was going on and most likely directed what was done. Eric Holder knew exactly what was going on and most likely directs what is done and John Kerry knows exactly what is going on and most likely directs what is done.
If we are to believe that Barack Hussein Obama is being kept totally in the dark and is thusly innocent of all discretions, then Barack Hussein Obama really does need to be removed from office simply because he is too stupid to be a leader of this nation or any other endeavor.
I used to pray for somebody to speak out, to stand up and defend our liberties, and then I realized, I AM SOMEBODY, and so are you!
Sometimes civil disobedience is the ONLY option we have left.