Southern Baptists condemn Boy Scouts over admission of gays
HOUSTON – The nation's largest Protestant denomination stopped short of calling for its member churches to boycott the Boy Scouts, but voiced strong opposition to acceptance of gay scouts – with a top church leader predicting at the annual gathering of Southern Baptists that a "mass exodus" of youths from the program that has been a rite of passage for more than a century.

The move by the Southern Baptist Convention came at its annual, four-day meeting in Houston, and three weeks after the Boy Scouts of America voted to allow gay youth to join. With more than two-thirds of Boy Scout troops sponsored by religious organizations, and Baptists being the nation's largest protestant denomination, the resolution could have a crippling effect on the Boy Scouts.

"There will be a mass exodus over time," said Frank Page, president of the Southern Baptist Convention Executive Committee. "Churches are finally going to have to come to realize – there is a point when you say, 'sorry, no more.'"

The resolution did not call on churches to stop sponsoring troops, but urged ones that do to push to have the decision to admit gay scouts reversed. It seemed to be largely aimed at what church leaders believe is the inevitable inclusion of gay scout leaders.

Story from Fox News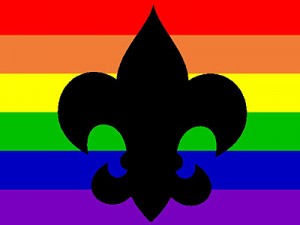 On May 23rd, 2013 I asked my Congressional Representative, Pete Sessions (R – TX-32) for his opinion on this action by the BSA voting to allow *gay* Scout members. I asked him in a personal email and I commented in a blog post HERE that I would be interested in his opinion since he is an Eagle Scout and a huge supporter of the BSA.
So far Rep. Sessions hasn't responded in ANY way.
From the same story linked above, I made this statement regarding the BSA and their acceptance of homosexuals.
If your Church sponsors a Scout Troop, urge your Church leaders to drop that sponsorship as soon as possible and seek other alternatives.

The morality of this nation is being tested my friends, and the Boy Scouts are being used as a HUGE test group. We, as Conservative and Christian Americans, responsible parents and grand-parents, can't allow that to happen!
So far nothing has happened to change my mind on that topic.
This is the Oath of a Boy Scout:
On my honor, I will do my best, to do my duty to God and my country. To help other people at all times, to obey the Scout Law, and to keep myself physically strong, mentally awake, and morally straight.
Somehow, I just can't see that oath meaning ANYTHING now; Morally Straight, how can that stand in an organization that allows homosexuals?
As a friend pointed out in a comment on the previous BSA post: A SCOUT is: TRUST WORTHY, LOYAL, HELPFUL, FRIENDLY, COURTEOUS, KIND, OBEDIENT, CHEERFUL, THRIFTY, BRAVE, CLEAN and REVERENT.
I don't see anything in there about *gay*.
Personally, I will offer my full support and agreement to ANY Christian Church or any other organization that would disassociate itself from the BSA. This decision goes against everything the Scouts have ever stood for.
Now I wonder why Congressman and Eagle Scout Pete Sessions won't weigh in on this. Surely it's not the thought that doing so could possibly alienate some of his homosexual constituents.
I have to say this; his not saying anything isn't helping him with his Conservative base, and WE are the ones that vote, and keep him in office.
Or not…