Supreme Court gives gay marriage historic boost
WASHINGTON (AP) – In a historic day for gay rights, the Supreme Court gave the nation's legally married gay couples equal federal footing with all other married Americans on Wednesday and also cleared the way for same-sex marriages to resume in California.

In deciding its first cases on the issue, the high court did not issue the sweeping declaration sought by gay rights advocates that would have allowed same-sex couples to marry anywhere in the country. But in two rulings, both by bare 5-4 majorities, the justices gave gay marriage supporters encouragement in confronting the nationwide patchwork of laws that outlaw such unions in roughly three dozen states.

Gay-rights supporters cheered and hugged outside the court. Opponents said they mourned the rulings and vowed to keep up their fight. SOURCE
As soon as this decision was handed down by the SCOTUS Obama called to congratulate California gay marriage plaintiffs and hail court's rulings.
According to the infamous homosexual advocate and Liberal writer Andrew Sullivan, Barack Hussein Obama is 'The First Gay President'.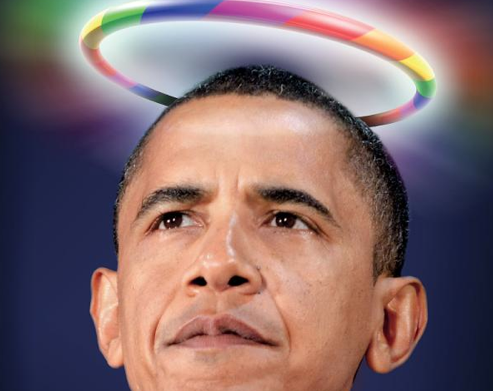 With a supporter in the White House that may very well be a homosexual himself, is it any wonder that the homosexual world and their supporters are suddenly feeling so empowered?
Recently, when basketball player Jason Collins outed himself as a homosexual Obama called Collins to offer support on coming out. According to this source Obama Backs Gay Marriage and much more.
There have been many rumors that Barack Hussein Obama not only supports the homosexual agenda and marriage, but is said by some to be a homosexual. Claim: Obama hid 'gay life' to become president.
With such obvious support from the White House and SCOTUS it has become pretty obvious that the homosexual agenda will be forced upon all of us, like it or not.
The homosexuals and lesbians of this world try to justify their being what they are, they try to convince people like me that their behavior is totally normal and nothing to be even a little bit alarmed over.
OK, I suppose by now you already know, or at least suspect, I have absolutely NO USE for homosexuals or lesbians, not in any way. I do NOT believe they are NORMAL, by ANY definition. I personally believe that they are sick depraved perverts that are forcing themselves off as *normal* in an attempt to justify their unnatural depravity.
If being a homosexual is SO normal why can't they breed and make a baby?
Homosexual marriage is an assault on the sanctity of marriage, a HOLY union between a MAN and a WOMAN. That union is as nature intended. This ruling by the SCOTUS is nothing more than a continued assault on the morals of the American people.
Welcome to the new Sodom and Gomorrah. I wonder what punishment the Lord holds in store for this most recent transgression?