USA Invaded by Hostile Forces — Obama helps Hostiles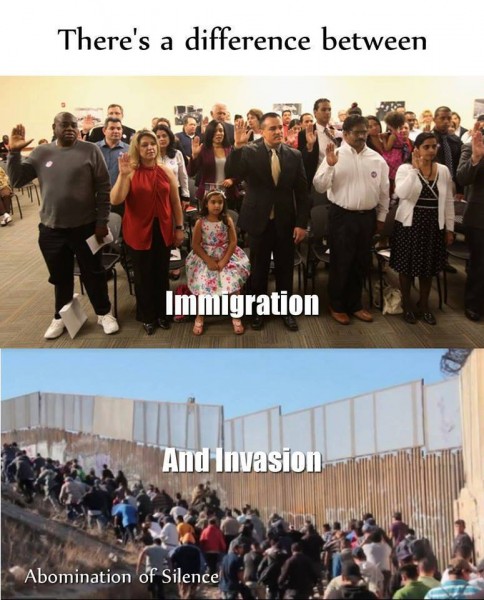 Obama to reform immigration on his own, bypassing Congress
(Reuters) – President Barack Obama said on Monday he would take executive action to reform the U.S. immigration system after hopes of passing legislation in Congress officially died.

Republican John Boehner, speaker of the House of Representatives, told Obama last week that his chamber would not vote on immigration reform this year, killing chances that a wide-ranging bill passed by the Senate would become law.

The collapse of the legislative process delivers another in a series of blows to Obama's domestic policy agenda and comes as he struggles to deal with a flood of unaccompanied minors from Central America who have entered the United States.

It also sets up a new battle with congressional Republicans, who accuse Obama of going beyond his legal authority to take executive action on issues such as gay rights and equal pay for women and men. SOURCE
Call me naïve, maybe I am, but I wasn't aware that the United States was a monarchy and that Obama was an *Imperial Ruler*.
Silly me, I thought he was supposed to the President, the head of the Executive branch and was supposed to work hand in hand with the Judicial and Legislative branches.
If Barack Hussein Obama can rule, not govern, RULE on a whim, why then do we need a Legislative and Judicial branch? I would imagine Obama asks himself that very question.
"I take executive action only when we have a serious problem, a serious issue, and Congress chooses to do nothing. And in this situation, the failure of House Republicans to pass a darn bill is bad for our security; it's bad for our economy, and it's bad for our future," Obama said in the White House Rose Garden.
I guess Barack Hussein Obama has finally reached the point where he can't blame Bush anymore so now he has to find a new scapegoat to beat on. It might as well be the GOP and what Obama sees as a failure on their part.
How Obama can call the GOP Congress a failure is beyond me. What I see from my point of view is the GOP failing to give in and kiss Obama's ass.
Ladies and Gentlemen, this is an engineered immigration emergency, one that has been fabricated by the Obama regime in order to allow the President to do something via an Executive Order that settles immigration issues the way that he, Obama, wants them to be settled.
On Jan 29, 2014 at 3:19 PM the Federal Business Opportunities page posted this: Escort Services for Unaccompanied Alien Children – Federal Business Opportunities.
As I said, this is a planned and engineered INVASION, engineered by the administration of Barack Hussein Obama. The Obama crowd knew it was coming; it was set into motion by the Obama administration and was being prepared for as far back as January of this year (2014).
Everyone moans and groans about the crisis on the border, the illegals that are already here, Islamic terrorists that I am certain have already infiltrated the USA, we moan about the way Israel has to fight the Muslim bastards just to stay alive and all of the other sad and miserable things that are wrong in the world today.
Well folks, I KNOW how to stop ALL of this Press 1 for English and Allah-Hu Akbar crap here in America, but it's not something that any ONE person can do alone. It's going to take a Team Effort.
We have been invaded and THAT is an act of war. In war you kill your enemies, in great numbers, THAT is how you attain victory.
The time has come when we either mount up and fight or we fall by the wayside and watch America the Beautiful become America: 3rd World Muslim Heaven.
Yes, it's called CIVIL WAR but it's either that as We the People remove the Illegals and stealth Muslim terrorists from this nation, the terrorists and invaders that our government can't, or won't remove, or we suffer until death what being controlled as a nation by the Liberals, Democrats and Socialists can do to us.
I may die standing and fighting FOR America but I will not submit and I will not die on my knees.
And there's one more thing on my mind that I want to have answered; when does Obama anger the Congress of the United States so badly that they intervene and take direct action against Obama themselves? WHAT is it going to take? This United States can't take much more.