November 29th, 2009 . by TexasFred
4 police officers shot dead at Wash. coffeehouse


TACOMA, Wash. (AP) - A gunman burst into a Washington state coffeehouse Sunday and opened fire on four police officers as they sat working on their laptops, killing the three men and one woman in what an official described as a targeted ambush.

Pierce County Sheriff's spokesman Ed Troyer said officers were looking for one male suspect who fled on foot, but haven't ruled out an accomplice.

Troyer said the four officers killed - all from the Lakewood Police Department - were catching up on paperwork at the beginning of their shifts when they were attacked at 8:15 a.m. Sunday.

Troyer said the attack was clearly targeted at the officers, not a robbery gone bad.

"There were marked patrol cars outside and they were all in uniform," Troyer said.

Full Story Here:
4 police officers shot dead at Wash. coffeehouse
The 1st thing I have to say is, our most sincere condolences to the families and friends of these fallen Officers! We are with you in spirit I assure you.
Web sites are going crazy with speculation.
As I told some folks on Facebook regarding speculation, it is indeed TOO early, speculation is just that. It may be terrorism, it may be domestic terrorism, it may be gangs, it may be anarchists, it may simply some CRAZY that hates the police, and to speculate, at this time, is ridiculous!
There is one thing that must be said though, NEVER NEVER NEVER allow yourself to fall into a predictable pattern. Don't eat dinner at the same place every day, don't drink your morning coffee at the same coffee house every day. NEVER fall into a routine that is easily tracked!
I knew an officer, many years ago, that went to the same convenience store at the same time, every day, day in, day out, as regular as clock work, to get a cold drink. His pattern never got him into any trouble, but his friends all knew where to congregate to have those daily BS sessions. It was a more innocent time in America.
Even now, I know that many officers hit the local 7-11, Starbucks, whatever the case may be, and many of them do so habitually. They may not realize they have become habitual, but if some sick freak out there has a grudge against them, and is stalking them and developing a pattern, they are giving that person an edge and an opportunity to strike.
That's a lesson I learned many years ago, from an old Marine Recon guy that told me, NEVER go out the way you went in, NEVER go in the way you plan to go out. Never let your habits get you killed. So far, so good.
As the facts of this story develop, I will be doing updates, here and on the Facebook Group, The Thin Blue Line.
Today, that Thin Blue Line grew a bit more thin…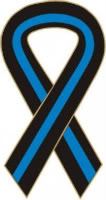 Stories are coming in and news services are updating fast and furious. The fact remains, we need to allow the police departments involved the time they need to do their job and get to the bottom of this heinous attack. To speculate truly does NO GOOD to anyone involved.
"This was more of an execution. He walked in with the mind of shooting police officers," Troyer said.

It wasn't immediately known if any of the officers were able to return fire. They were declared dead at the scene.

Troyer said two employees and a few customers were in the Forza Coffee Company shop at the time but no one else was hurt. "As you can imagine they are all traumatized," he said.

More here:
4 police officers killed in Wash. coffee shop
As said earlier, offer condolences and supprt and let the police DO their jobs. Trust me, no one wants to see this killer tracked down and disposed of any more than they do!

If you enjoyed this post, make sure you subscribe to my RSS feed!

Return: Top of Home Page